A Brief Guide to Eating and Drinking in Lausanne [PDF 3.2 Mo]
DH2014 is conjointly hosted by University of Lausanne (UNIL) and the Ecole Polytechnique Fédérale de Lausanne (EPFL)
Lausanne is located on the shores of Lake Geneva (Lac Léman) in the French-speaking part of Switzerland.
The University of Lausanne and the Ecole Polytechnique Fédérale de Lausanne share a vast green campus near the lake, where they welcome more than 20,000 students and about 800 professors. Both institutions offer high-tech conferences facilities.
Travel
Lausanne is located 60 km northeast of Geneva, and 225 km southwest of Zurich.
There are two international airports in close proximity: Geneva Airport (40 minutes by train) and Zurich International (just over two hours by train). There are a number of direct trains per hour from each airport, and detailed timetables can be found on the following website by entering either "Geneva Airp." and "Zurich Airp." stations. "Lausanne" will be your destination station:
http://www.sbb.ch/en/home.html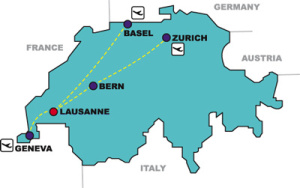 Hotels
There are many hotel options in the Lausanne area, ranging from youth hostels to five-star properties.
Please note that hotel reservation via the online conference registration page has closed as of May 25th, so you will now have to book your accommodations directly with the hotels.
Our partners at Lausanne Tourism recommend using the following site to search for/book accommodations:
The city centre of Lausanne is connected to EPFL and UNIL via train and public transport, taking around 15 minutes. A low cost hotel for students is situated by the lake, around a ten minute walk from the campus, where dormitory style lodging starts at around CHF 50.00 per night (**depending on availability**).